How to get to SNU from Incheon International Airport
Limousine Bus
The 'Limousine bus' is a convenient and inexpensive way to get to SNU from Incheon International Airport. Take the airport limousine bus number 6017. The bus 6017 comes directly from Incheon to SNU rear gate (Hoam Faculty House) within 70 minutes. Service is available every day from early morning to night time at Incheon International Airport with no charge for the baggage.
Route Name

(Bus No.)

Bus Type
Direction
Departure

Platform

Numbers

Interval

Traveling

Time

Fare

Seoul Nat'l

Univ

Limousine

(Deluxe)

Airport-

Seoul Nat'l

Univ

Incheon Intl'

Airport

(T1 or T2)

(T1)1st Floor,

Number 6B-1

(T2) B1 Floor,

Number 27

30~40

mins

(From T1)

70 mins

(From T2)

90 mins

15,000

KRW
Taxi
The taxi fare for coming to SNU from Incheon International Airport (terminal 1 or 2) is around 60,000 KRW depending on the traffic situation. By Deluxe Taxi (Mobeom Taxi), which offers kinder service, the approximate fare is 95,000 KRW. 
Please take a printout of the following message and show it to the taxi driver.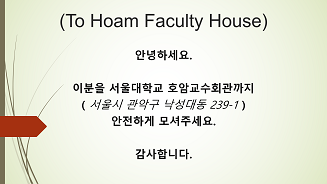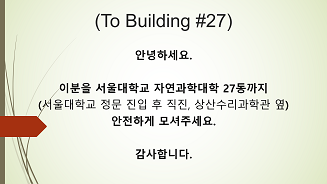 <To Hoam Faculty House>                                             <To Building #27>
From Hoam Faculty House to Building #27
Hotel Shuttle Bus: Please ask the hotel front in advance (operate only in weekday)
Taxi: It takes 5 minutes (KRW 4000/USD 3.5)
On foot: It takes 30 minutes